Using a sauna offers many proven health benefits (both physical and mental). These days, people have found sauna a new natural way to improve wellness, health, and lifestyle. You can enjoy many health benefits by using sauna such as increasing blood flow, healthier looking skin, sooth muscles, increasing metabolic rate, detoxification (of the body), less stress levels, more immunity (by preventing common cold and flu) and much more. Having a sauna room at your home can help you enjoy the charm of an optimal sauna bath experience. One of the many benefits of sauna is, it requires less maintenance.
Whether you are using the sauna room every day, once in a week or as per your convenience, then it is important to keep it in a top condition. Keeping your sauna in a well-maintained and top condition enhances your heat session and offers many health benefits.
Here are some easy ways of maintaining your sauna and keeping in a top shape. Please have a look!
1. Ensure a Barrier Between the Body and Board:
Saunas are all about relaxing and detoxifying. During sauna, you usually sweat out a lot to get rid of toxins from the body. The sweat and body oils have to go somewhere, but make sure that the sauna wood should not be their final resting place. Make sure to use an absorbent towel (that are made especially for sauna use) to create a barrier between the body and board. This ensures your sauna room stays in top condition for long and requires a minimal cleaning.
2. Clean and Treat the Wood:
Stains do happen on the benches; headrests and backrests in the sauna room. You need to get rid of the stains by cleaning and treating the wood in the right way. The wood benches should be cleaned and sanitized by using natural treatments that are specifically designed to clean and deodorize sauna wood.
Please stay away from using any kind of chemicals or antibacterial treatment to clean the wood benches or floor of the sauna, as the heat and steam can break down the chemicals and cleaning solvents and create potentially toxic gases that can dry out the wood and cause damages.
To remove the stain marks, you can use fine sandpaper and consider a thorough cleaning. After sanding, make sure to go for a good job of vacuuming the surfaces (to clean out all the dust or dirt particles).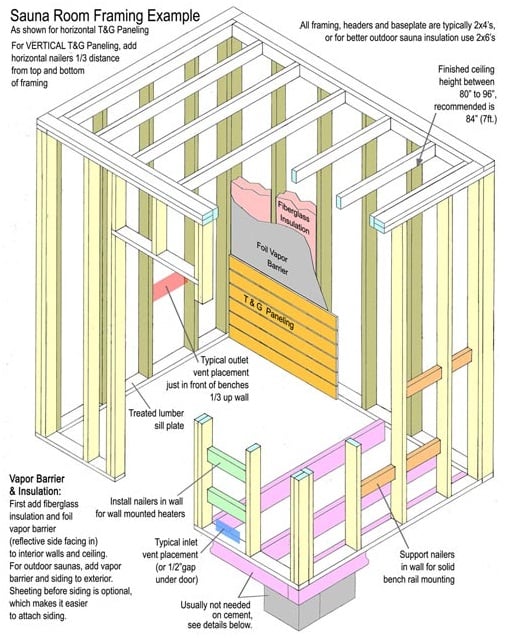 3. Ensure Proper Ventilation:
After a sauna session, always make sure to leave the doors open. This will help your sauna to dry out and evaporate the residual moisture. Please never apply any kind of stain or varnish to the interior of your sauna, as it can create a toxic environment.
4. Make It Odor Free:
It is common to have sweat on the floor of the sauna room. This can create a bad odor in the sauna. To get rid of this, you need to clean the sauna floor weekly; this will prevent bacteria and odor buildup.
A sauna room helps you relax and detoxify. Saunas that are well-designed and perfectly built are self-sufficient. If you want to buy a DIY sauna room, then visit today CedarBarrelSaunas.com!  Our DIY sauna room packages allow you to quickly and conveniently convert any space inside your home to a sauna room.
To know more about DIY sauna room, please browse through this url: https://www.cedarbarrelsaunas.com/sauna-room-plans.html