Want to try infrared sauna yourself? If yes, let's get right to it. Infrared saunas use light and heat to relax, unwind and detoxify the body. These saunas emit infrared light waves that create heat in the body making you sweat and release stored toxins.
Are all saunas the same?
There are three levels of infrared sauna-like near, middle and far. The different levels of saunas represent the different sizes in infrared wavelengths. They refer to the intensive of the treatments. Most sauna enthusiasts find that:
Near-infrared levels are ideal for healing wound and increasing immune functionality.
Middle infrared levels are good for increasing blood circulation and increasing immune function.
Far infrared levels are used for detoxification purposes.
Taking Advantage of Infrared Saunas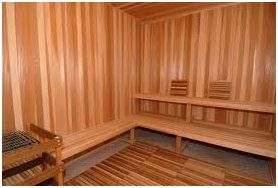 The health world is buzzing with infrared sauna benefits. With sports illustrated and shape features, the health journalists are queuing up to check out the infrared sauna treatments.
Operating at 40°C, the infrared home saunas work by eliminating the body and relaxing muscles gently. They can penetrate the lower skin levels with infrared rays.
In addition to helping your body release stored toxins, the infrared saunas can help you lose weight. They can relieve unnecessary pain, enhance blood circulation, and purify your skin. Most notably, these saunas normalize blood pressure and minimize the chance of congestive heart failure.
The significant benefits of installing infrared saunas at home:
Relaxation –
All you need to do is to sit back, unwind, and warm aching as well as tired muscles through the comfortable and relaxing heat of infrared saunas at home.
Detoxification –
The use of infrared saunas eliminates the toxins from the skin and increases circulation. This leaves you with clearer, softer and healthy looking skin.
Pain Reliever –
If you use a sauna at home, it can increase circulation that can ease pain and ache.
Skin Purification –
Upon using a sauna, you will come out glowing at the end. It will clean up pores leaving you radiant and rejuvenated.
Improved Circulation –
Using saunas can increase blood circulation. It can help the body recover from an extensive exercise session. Therefore, you should consider installing an infrared sauna at home.
Final Consideration –
Are you new to the infrared sauna? Or would like to make the most out of sauna therapy? If yes, why don't you invest in home saunas and kits available for sale at Cedar Barrel Saunas! Every home is handmade using the finest standard "Grade A" Western Red Cedar, stainless steel straps and fasteners.
For more information about our home saunas available, please make a visit to our website at https://www.cedarbarrelsaunas.com/.